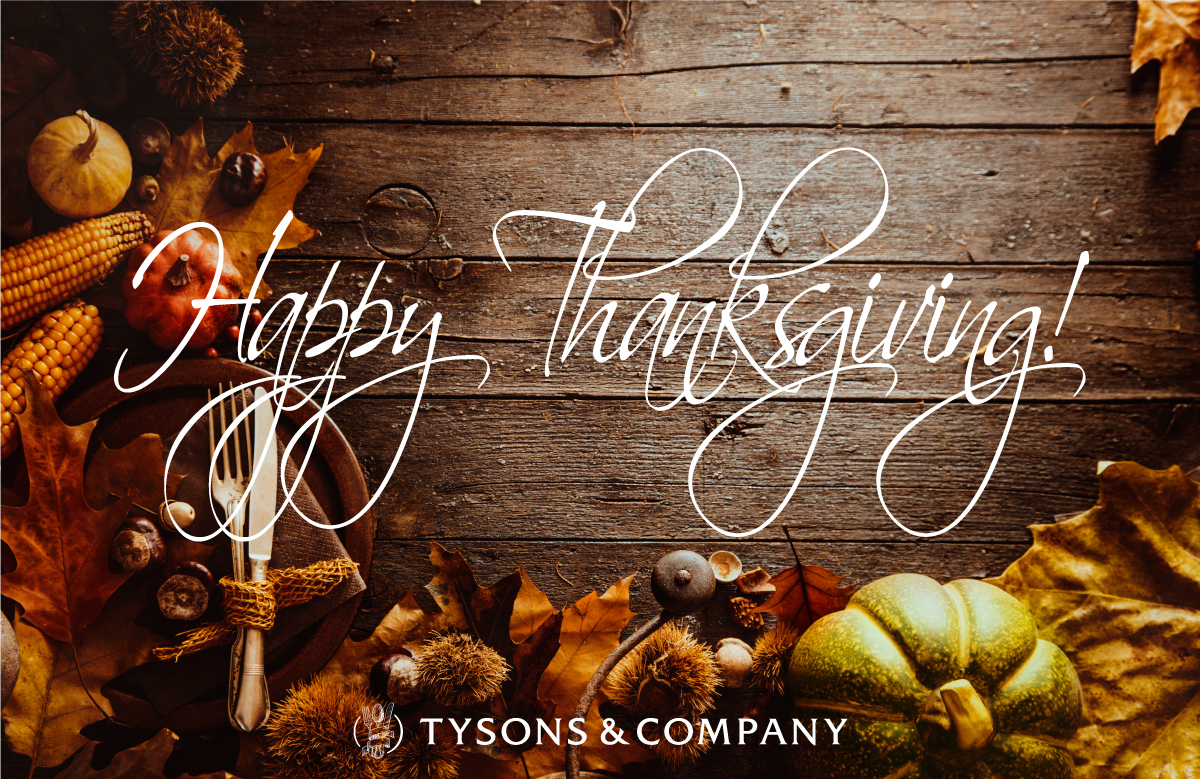 THANKSGIVING 2019
---
This years Thanksgiving (November 28th), we will be serving a special dinner menu at T.Y.HARBOR,
SMOKEHOUSE, CRISTA, and IVY PLACE. In addition, crisscross, No.4, and breadworks will have a
special dish! Come and enjoy this Thanksgiving with us along with your friends and family!

SOUP
Creamy porcini and Yanagi matsutake soup
SALAD
Smoked Tasmanian salmon with apple, kale and
pomegranate salad, beets and horseradish dressing
MAIN
Roasted turkey with dried cherry, chestnut and
Portuguese sausage stuffing with cranberry and
persimmon relish
SIDE
Sautéed green beans with almonds, creamed cauliflower
gratin with garlic mashed potato
DESSERT
Traditional pumpkin pie with gingerbread crust and toffee ice cream
¥8,500
Reservations: 03-6418-0077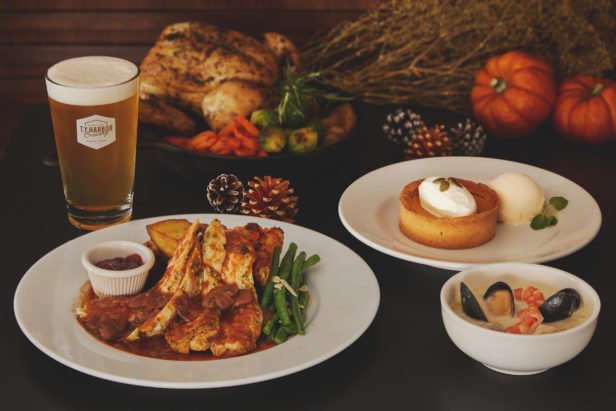 SOUP
Creamy seafood chowder with shrimp,
scallops and mussels
MAIN
Roasted turkey breast with mushroom gravy,
cornbread stuffing, mashed potatoes, green beans
and cranberry relish
DESSERT
Classic pumpkin tart with whipped
cream and vanilla ice cream
¥5,000
Reservations: 03-5479-4555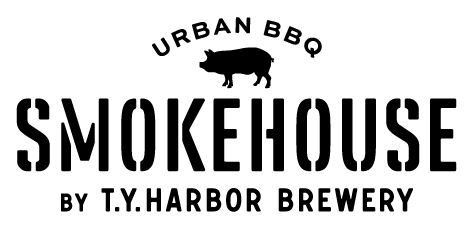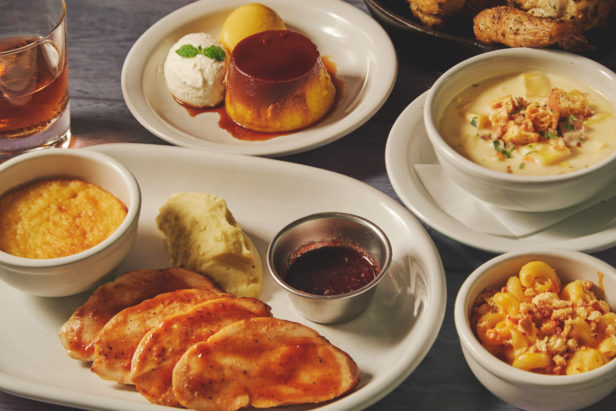 SOUP
Smoked sweet potato chowder with crispy bacon bits
MAIN
BBQ turkey breast plate with corn pudding, whipped
yams and cranberry relish
SIDE
Lobster mac-n-Jack cheese with smoked croutons
DESSERT
Pumpkin pudding with pumpkin gelato and
whipped cream
¥5,000
Reservations: 03-6450-5855
– – – – – – – – – –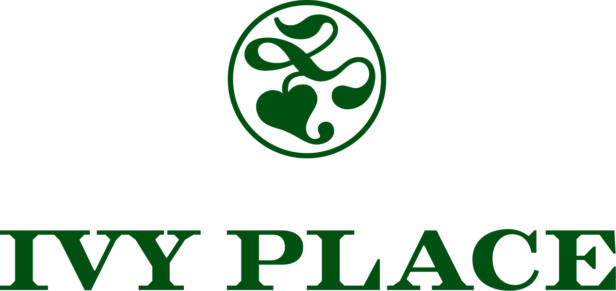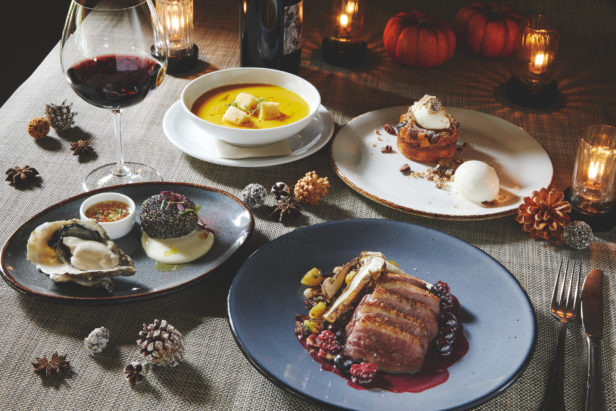 APPETIZER
Fresh Oyster in Half Shell with Bourbon Sauce, Crispy
Black Quinoa Crusted Salmon Tartar with Horseradish Cream
SOUP
Roasted Carrot Puree with Maple and Tangerine Essence,
Maple Brioche Croutons
MAIN
Pan Roasted Medium Rare Duck Breast with Autumn
Mushrooms, Chestnuts, Hazelnuts and Black Rice Ragout,
Blueberry Demi Glaze
DESSERT
Apple and Raisin Tart with Cumin Crumble, Pecans and Vanilla Ice Cream
¥7,000
※Minimum 2 Guests
※More Than 6 Guests Will Be Served Family Style
Reservations: 03-6415-3232
– – – – – – – – – –

SANDWICH
Smoked turkey sandwich with Gruyère cheese
and cranberry relish mayonnaise.
¥1,600
※11/25〜12/1
Information: 03-6434-1266
We take reservations from 5:30PM~
– – – – – – – – – –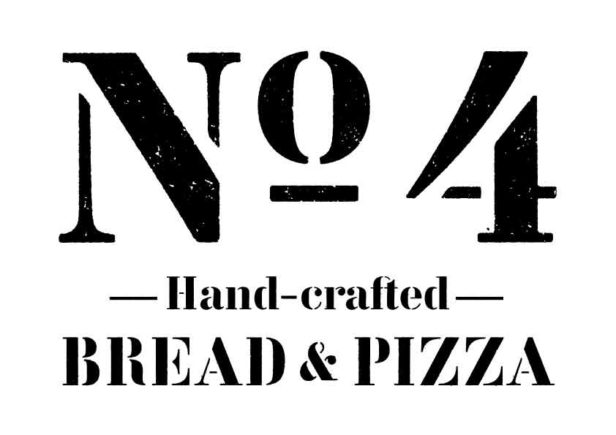 SANDWICH
Roasted turkey sandwich with relish mayonnaise,
cranberry sauce and sautéed kale
¥1,200
※11/25〜12/1
Information: 03-3234-4440
– – – – – – – – – –

SANDWICH
Roasted turkey baguette sandwich
¥570
※11/25〜12/1 (Lunch Time Tennoz Only)
Information: 03-5479-3666
– – – – – – – – – –
SOLD OUT!
Till next Thanksgiving!
Roasted whole turkey (approx. 7kg/serves up to 8 people)
Mushroom gravy sauce
Cranberry relish
T.Y.original cornbread stuffing
Sautéed green beans, mashed potatoes
¥30,000

Pick Up:
From breadworks in Tennoz Only.
Delivery:
Area: Shinagawa-ku, Minato-ku, Shibuya-ku,
Chiyoda-ku, Chuo-ku (Delivery Fee +¥2000)
※11/25~11/30
※Reservations required.
Orders must be placed at least 5 days prior of desired pick up date.
TURKEY PACKAGE OPTION:
Pumpkin Tart +¥3600
Information: 03-5479-0776
BOND ST. KITCHEN, breadworks, crisscross, CRISTA, IVY PLACE, No4, SMOKEHOUSE, T.Y.HARBOR, TYSONS