STORY
A resort-like space
where you can enjoy authentic Mediterranean cuisine.
There is a mysterious Asian feel while the terrace
and pool lounge seats give off a colonial European ambiance.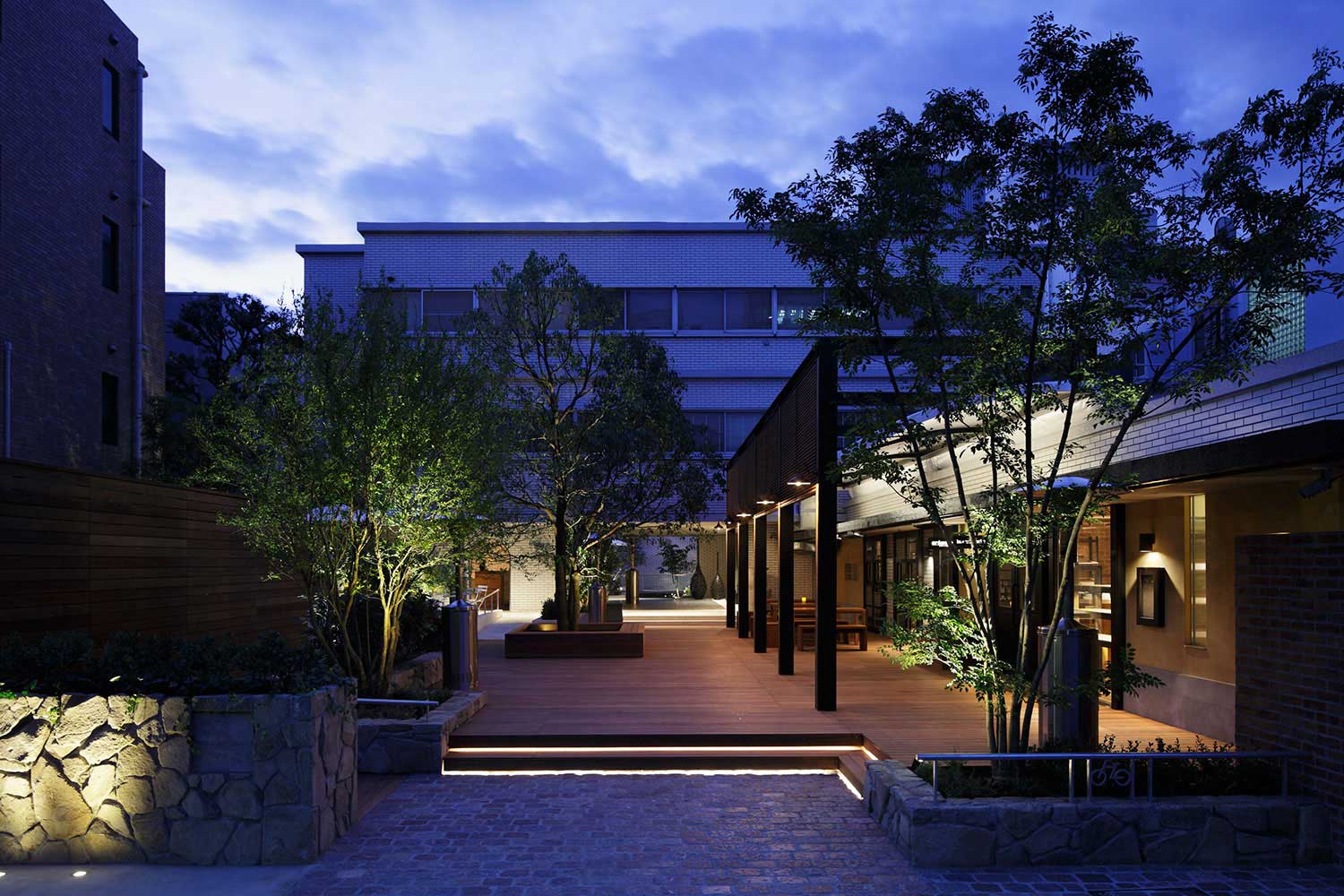 Relocating a popular restaurant just may be – for a restaurant owner such as myself – a bigger challenge than creating a popular restaurant from scratch. It is a gamble, and you are relying only on your own intuition to pick the winner. The restaurant owner must come to terms with his own anxiety and mixed feelings revolving around attachment to the original location, the connection with local customers who have been supportive since day one, and lingering doubts about the draw of the new location.
I opened CICADA Minami-Azabu in 2003. I was 31 years old and it was the first restaurant I opened in an urban area, away from Tennozu. At the time, neighboring private restaurant owners voiced concerns about CICADA's viability, but the last ten years have proven them wrong. We were able to attract many regular customers and supporters, as well as develop the staff that now supports our company. It is no exaggeration to say that without CICADA Minami-Azabu we would not be here today. Personally, it is a very important restaurant for me – it is where I matured and spent my 30's. However, our lease would be up in the spring of 2013, and we knew it would be very difficult to renew it. We were faced with an uncertain future for our restaurant and its ever-growing base of customers.
It was then we came to a turning point. In January of 2012, we had just opened IVY PLACE and we were still very busy. I received a phone call from the owner of a certain building, whom I had met previously when presenting a proposal for a new eatery. He invited me to pitch a new restaurant proposal for his building, but there was only a week to prepare. With all I had on my plate with my new place, I didn't have the time to draw up a business plan and budget, much less the manpower – or brain power – to come up with a new concept for a big restaurant by the deadline. After meeting with the man and hearing his invitation, I went walking through the business district. As the bright winter sunshine washed over me, I realized that a proposal to relocate CICADA was my only option. If the owner had called me even a month or two earlier, I would have been too heavily involved with opening IVY PLACE to even give a presentation. Also, in the past ten years the facilities at my Minami-Azabu restaurant were falling apart, and would be quite expensive to update. With the Nishi-Azabu market losing its momentum, the cost might not be worth it. The more I thought about it, the more it seemed like perfect timing. To ensure the future success of my restaurant, it was the right time to relocate. Luckily, our proposal was accepted, and we were able to move forward with the relocation.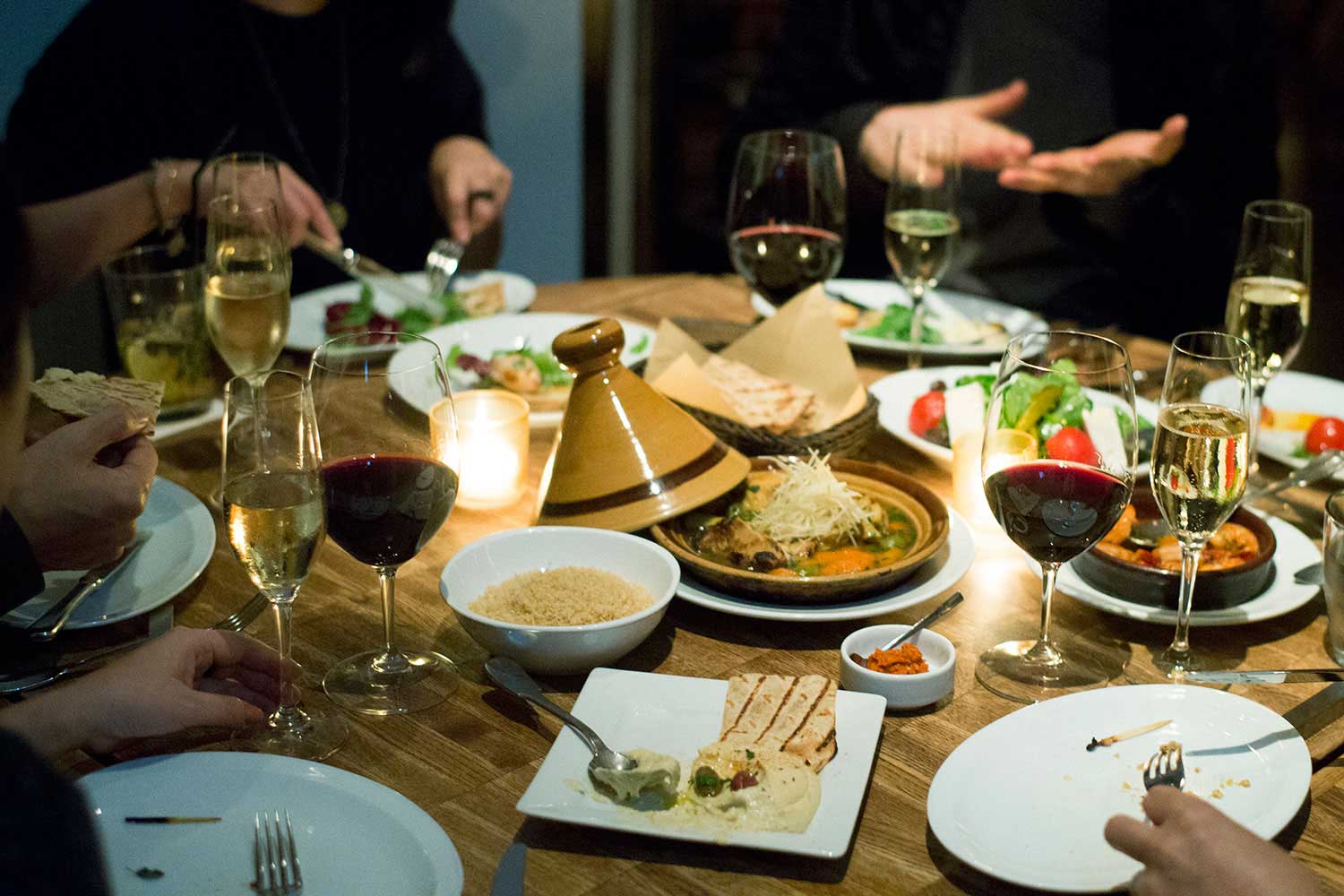 CICADA is moving to a 50-year old building built by a famous Japanese architect. Its original purpose was to provide living space for the employees of the owner's company. Despite the location being only one minute walk from the Omotesando station, it is like an oasis. It's a mansion with a large garden and swimming pool – a wonderful, creatively stimulating space. When I first saw it, an image immediately came to my mind of a resort-like restaurant in the south with a "colonial" theme mixed with the warmth of Minami-Azabu. The renovations proved challenging at every turn, but the reward will be well worth it. Unlike our previous projects, such as when we became a tenant in Daikanyama, we are not just one eatery among many. By opening a restaurant, bakery and café all in one central location, we have the opportunity to have a big impact on the town and everyone who lives here.
Nonetheless, as the relocation draws near, I am not without anxiety. Many people ask, "why are you relocating?" And the healthy draw of customers to the present CICADA always makes me think about the amount of business I will see at the new location. Still, I must be confident in my decision. I have worked my hardest to make sure that my customers think the new restaurant is even better, and never say "we miss the old place." Our new building is owned by a historic company founded in the Meiji Era, and I've learned that my great-great-grandfather on my mother's side was one of their founding members. In this new location that I seemed to be linked to by fate, I am determined to start a new chapter with my staff and loyal customers.
We put everything on the line in the challenge for our second restaurant It was the first time we faced the difficulty of creating something from nothing I was not willing to make any compromises to convince myself that it would work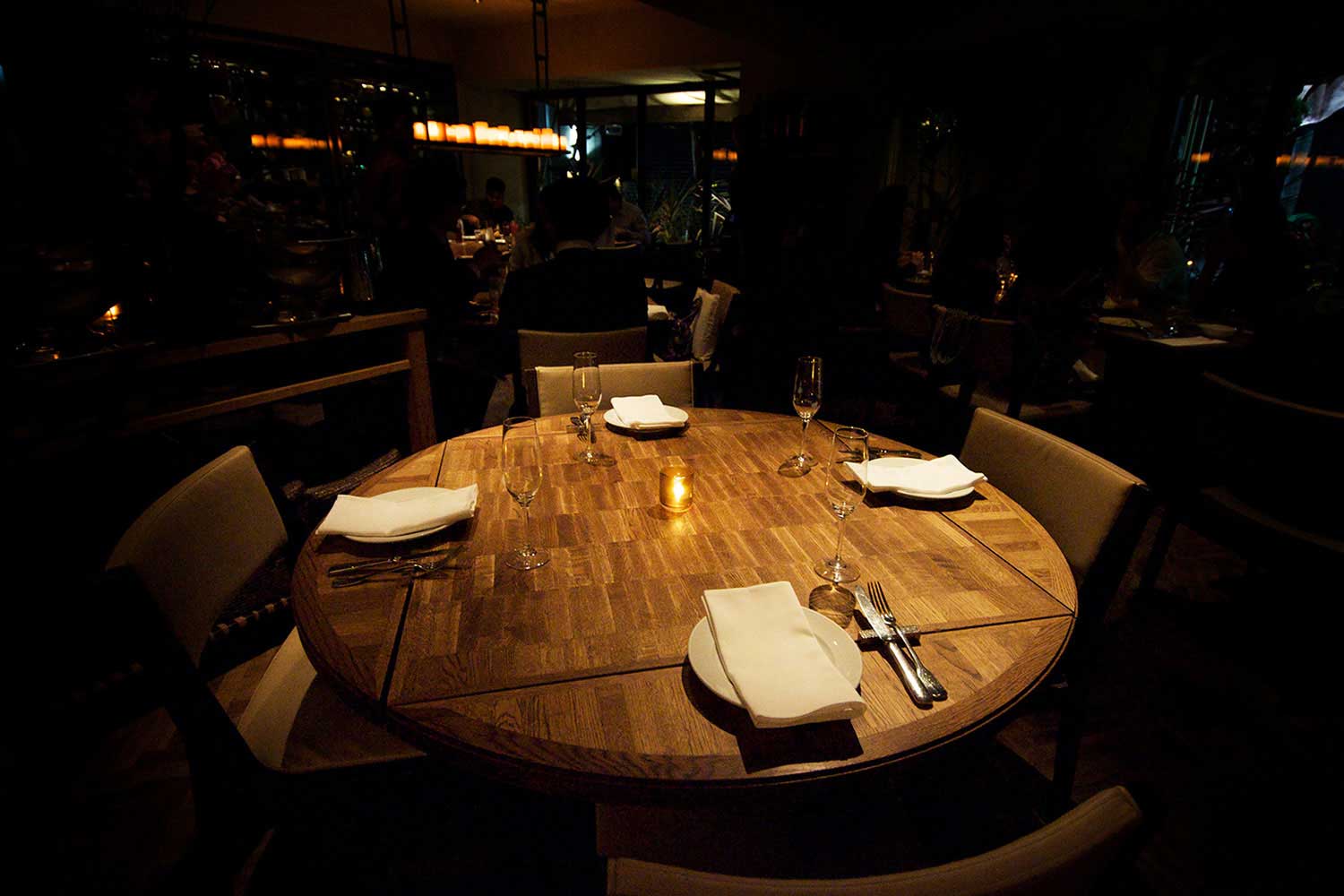 We started thinking about opening the next restaurant when the reconstruction work for T.Y.HARBOR got on track. Our basic concept for a restaurant that we would open completely from scratch and by our own hands was to be a restaurant that we would want to go to regularly, one that would be easy to use. David had the idea for Mediterranean cuisine that focused on Spain and Morocco, and there was a modern tapas boom occurring at the time in the United States, so if our concept focused on the casual lifestyle of the Mediterranean it would end up being very fresh. We envisioned people enjoying themselves by casually sharing simple cuisine and wine, without there ever being anything thrust on them by the restaurant, so that they eat what they like as they liked for as much as they liked. That was the kind of restaurant we decided we were going to try and create.
The problem was where were going to open it. We were aiming to do so in the heart of the city where competition was fierce, but we knew that since T.Y.HARBOR had so much space, we would have to choose a location with impact, even if we couldn't get to the same level as that. In our first ever search for property, I relied purely on my gut feelings and I think I looked at close to 100 different locations over the course of more than a year without finding anything I could agree to, which was when, of course, I was introduced to this location. This was built in Nishi-Azabu and operated for nineteen years as an Italian restaurant, I Pizelli, a location for which it was beloved by a generation of people, and while it was close to Nishi-Azabu, it was still in a bustling area, with places for cars to easily park, and it also sat on a corner with the desired amount of floor space, making it, I thought, the ideal location for our restaurant.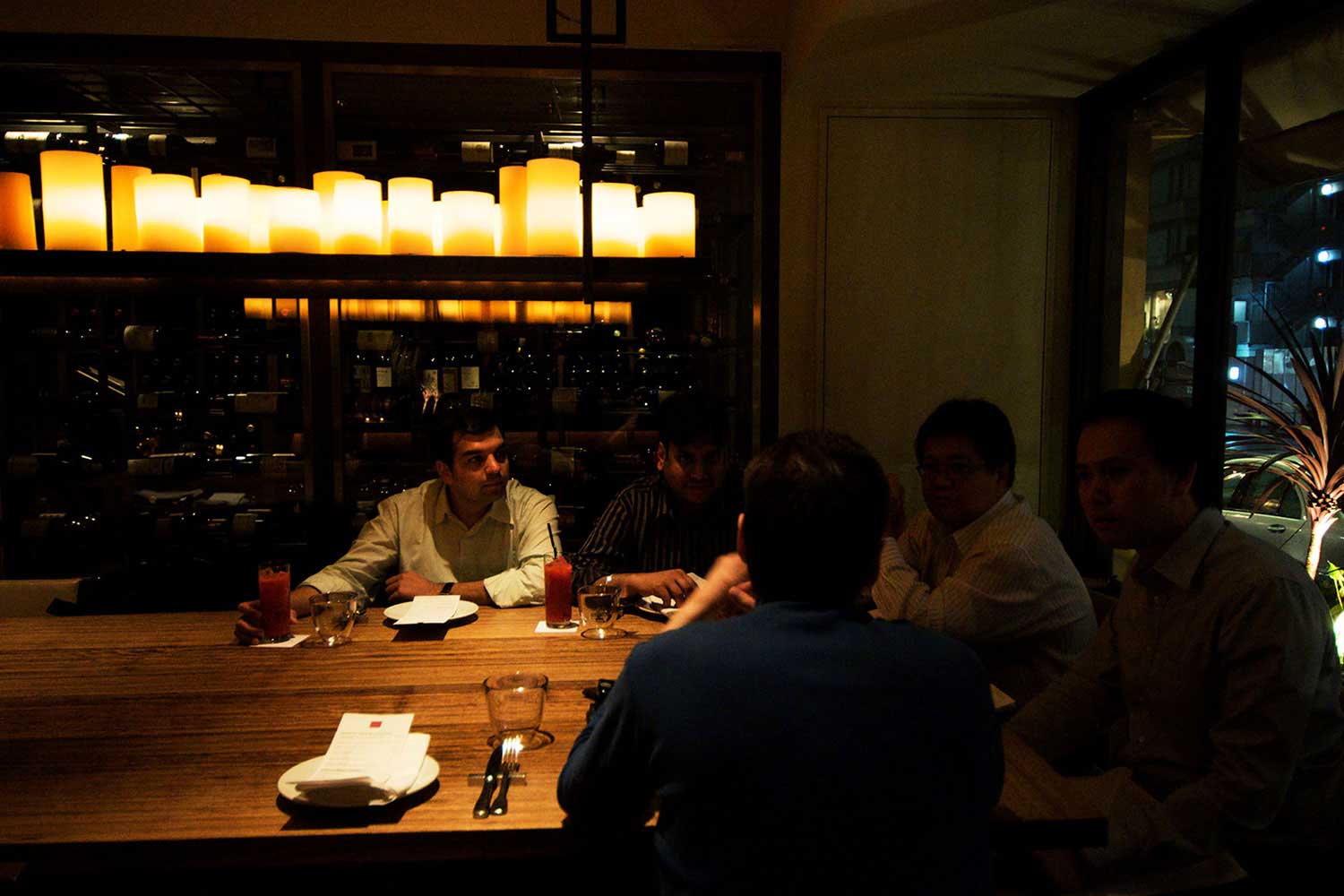 We went in with everything included, but started by completely re-decorated, leaving the kitchen where it was. When we considered the lines of movement for the bar, we knew that keeping the entrance near to the intersection corner of the building would be problematic, so we shifted the entrance to the Hiroo side, and although the old restaurant did not allow passers-by to look in, we changed that and made all the exterior walls into plate glass windows. We had also originally thought we would strip out all the interior walls to create one much larger space, but as we working we discovered that there was actually a load-bearing wall that we couldn't find on some of the old blueprints. That forced us to divide down into three smaller spaces, but as it turns out they are all connected, so we ended up with the right level of relaxed space.
For the interior design, we used wood and indirect lighting, as well as lighting using real candles, olive wood floors, and we used wood-burning fireplaces to aim for a warm, relaxed space. As we considered the ease of use, we decided to accept reservations until the kitchen closed at 2am, and allowed people to order from the full menu, even when seated at the bar. We collected 80 varieties of wine, focusing on those from the coastal Mediterranean region, and made twenty of those varieties available to order by the glass. We were aware of the risk but we made the volume and the price of the glass of wine equal to one-fifth that of the bottle, so that guests could enjoy various different wines.
There was a lot of hard work involved in our first ever opening, but we met so many different people that it was a different emotional attachment when compared to T.Y.HARBOR. Since the opening in 2003, the restaurant has attracted many fans, but whenever I stop in, there's a sense of relief as if I've come home. That's the kind of restaurant it is.
---