STORY
Tokyo's first authentic BBQ restaurant provides
a space everyone can casually come and have fun.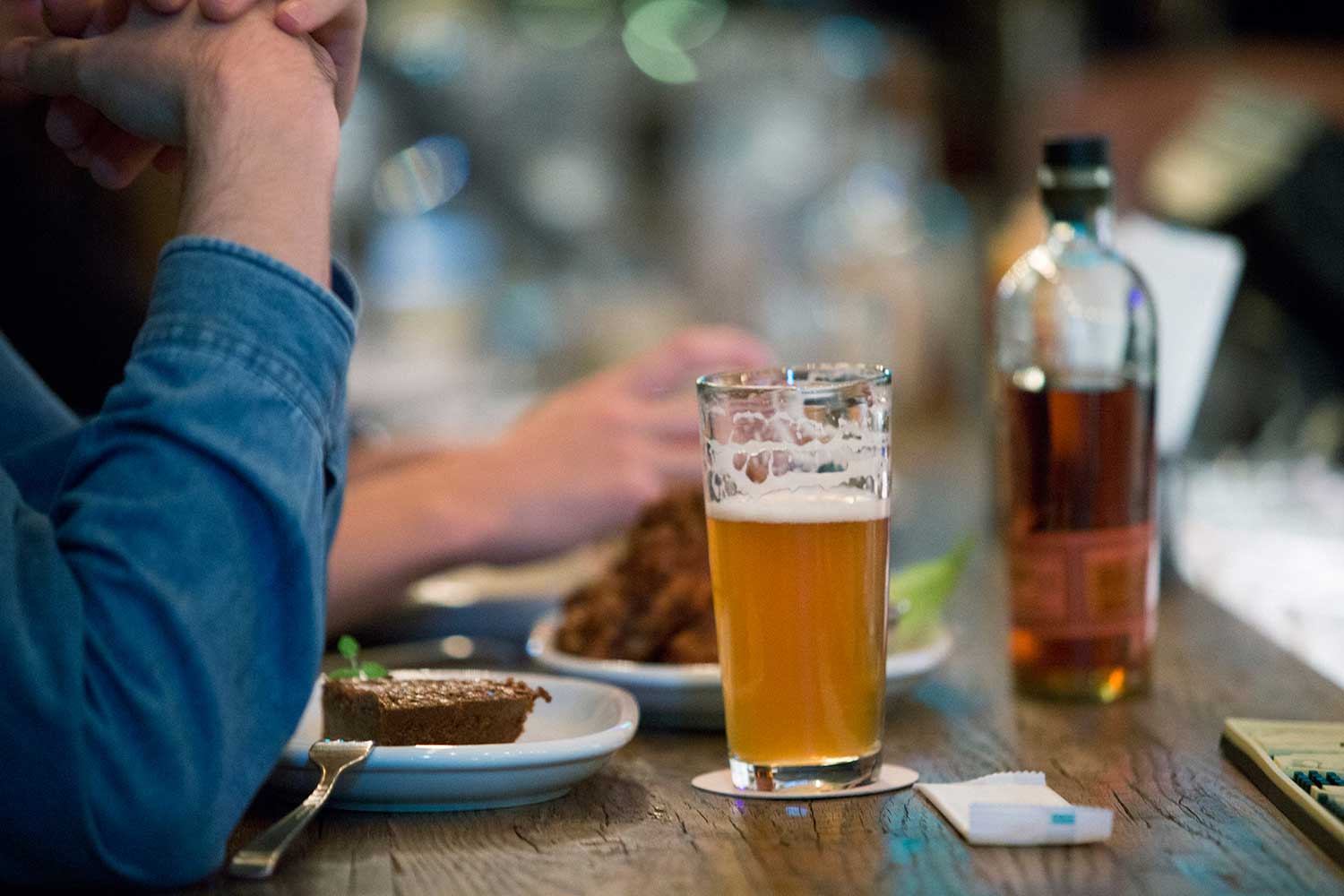 As a businessman, I am sometimes struck by a surreal kind of inspiration. Let me explain. Sometimes, an event seems predestined to me, because it's the fusion of my connections with the people I know, my memories of past encounters, a collection of ideas born from various conversations I've had, and a moment of perfect timing -- all brought together in a Eureka moment! This is when one of my plans begins to take shape. The events leading up to the relocation of CICADA happened just like that, and then, at the moment the opening was settled in the winter of 2012, I received the offer that led me to my next project.
"Would you consider opening a shop next door to mine?" That was the question posed to me by the president of an American company and longtime patron of beacon, one of our restaurants. It was a strange thing to ask out of the blue, considering this was our first real conversation. We were eating together at the new CICADA at the time, and I was caught completely off guard. He explained that he had rented the building next door to his denim concept shop, because he was hoping he could get some establishments to move in that matched his image. He had been looking for a tenant for some time, but negotiation with his best lead had just broken off.
The location in question was on Cat Street, and consisted of two floors. The environment was completely different than any of our other locations. The logical thing to do would have been to turn him down or at least put him off. But, I decided to give him the benefit of the doubt and do what I always do when considering a new property. I walked down there myself, took a seat and just sat for a while, taking in the environment and letting my mind wander over the possibilities. I thought about the ideal lifestyle of the people around me. Then, the various elements stored in my mind suddenly fused and took shape. At that very moment I came up with a plan that seemed like a lot of fun.
One of the catalysts of this inspiration was a previous conversation I had with Mr. Masataka Nojiro, owner of NOZY COFFEE. I had met him for the first time in the summer of 2012 through one of my employees – it was just after the opening of IVY PLACE in Daikanayama. I connected with his drive and his ideas, so I introduced him to David -- the man entirely responsible for our food – and one of the executives. We held a tasting session, but unfortunately the project we were planning with him didn't work out. After that, I didn't end up seeing Mr. Nojiro for more than six months. But something he said to me on the first day I met him stuck in my mind. "I want to open a coffee shop in Omotesando one day." That's what he said, and those words became a catalyst for my new project. I knew that the so-called third wave of coffee culture was big in America. However, because I wasn't much of a coffee drinker, I never imagined I'd be involved in the coffee business. But on that day, as I sat looking out over Cat Street, Mr Nojiro's words echoed in my head. That's when I thought, "Hmmm… Coffee. Why not?"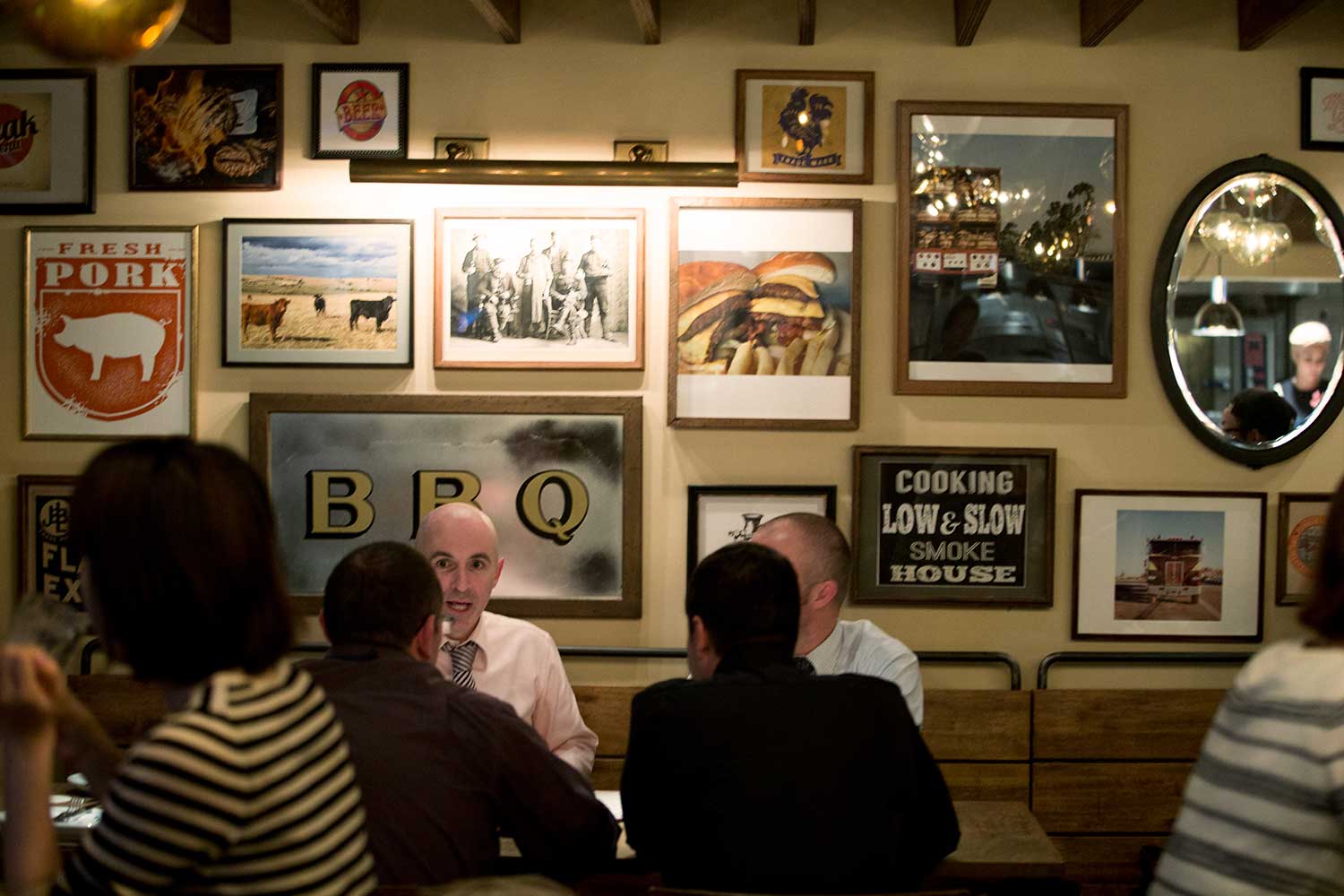 The other key to my plan was a conversation I had some time ago with David, my long-time business partner. David and I were in Karuizawa looking at some property, when he said "How about an American BBQ restaurant?" At the time, I didn't pay much attention, but now those words became my second catalyst. Over the past few years, microbrews were enjoying a surge of popularity in Tokyo, and a number of specialty bars had opened. Since we were the only ones with our very own microbrewery in the 23 wards of Tokyo, I always wanted to open a craft beer bar. In such a place, TY beer would be the focus, as opposed to just another beverage on the menu. I thought it would fit in nicely next to the denim shop, but I felt like something was missing to make it truly special. Then it hit me: "The BBQ!"
The more I thought about combining microbrews with BBQ, the more I realized how perfect it was. Then there was the third wave of coffee culture, born on the West Coast of the U.S. For the coffee house industry, that meant gourmet beans in a casual space with an in-house roasting machine. BBQ was also from America – either the south or Midwest – and there men compete with their slow-cooking skills. The microbrews and craft liquors made by independent American breweries and distilleries were a perfect match as well. Everything fit the denim culture next door, tough and persistent but also stylish. And then, when you look at this all in the context of Cat Street and the people here, you can see that all of this perfectly caters to them.
I immediately met up with Mr. Nojiro and told him my idea. He said with great excitement, "What a coincidence! I was just about to move our location because we just can't roast enough beans in our current space." He had already found a property in Futako Shinchi, but hastily canceled. The timing was more than perfect. I had also been doing some research on the competition in Tokyo, and there wasn't a single craft beer bar where the food menu was up to par. There wasn't an authentic American BBQ restaurant either, so I started to gain even more confidence in my idea for the upstairs. When I explained my plan to the the president of an American company, he loved the idea so much that we launched the project right away.
I had so much fun on the project that before I knew it, it was time to open! All the while, things kept falling into place, one after another. For example, the building owner loved American culture. He even happened to be a member of the same gym where my father goes, and they would chat occasionally. Needless to say, making the arrangements for the property went smoothly. This new project seemed like it was predestined from day one. Also, since both eateries were completely different than our other restaurants, I really got to have fun and do all kinds of new things throughout the process. "If we have fun creating a new place, it will definitely be successful." That is what I believe, and I'm confident that this project will add a new landmark to Cat Street.