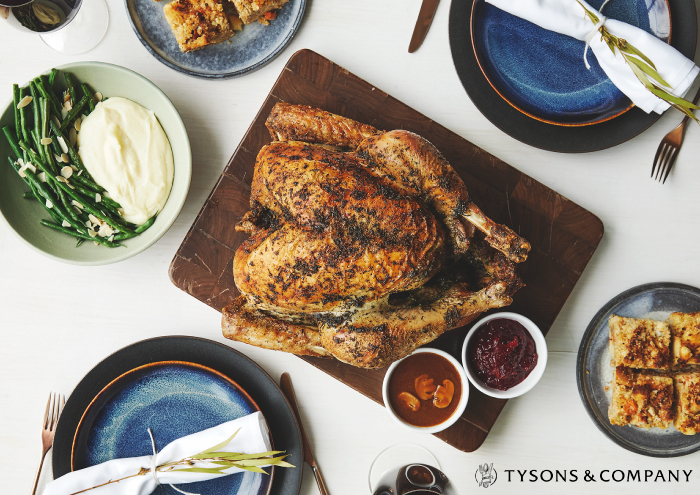 THANKSGIVING 2020
---
This years Thanksgiving (November 26th), we will be serving a special lunch platter and dinner
menu at T.Y.HARBOR while SMOKEHOUSE and IVY PLACE will be serving a special dinner
course! In addition, crisscross, No.4, and breadworks will have special dishes! In addition,
BOND ST. KITCHEN has prepared several meat packages including a special turkey package
which can be delivered to your very own doorsteps!
Come and enjoy this Thanksgiving with us or at home along with your friends and family!
eat, drink and be grateful!
– – – – – – – – – – – – – – – – – – – – – – –
LUNCH PLATE
Roasted turkey breast with mushroom gravy, cornbread stuffing,
sweet potatoes, green beans and cranberry relish
¥1,850
DINNER COURSE
SOUP
Creamy parsnip and fennel soup with crispy prosciutto
MAIN
Roasted turkey breast with mushroom gravy, cornbread stuffing,
sweet potatoes, green beans and cranberry relish
DESSERT
Classic pumpkin tart with whipped cream and vanilla ice cream
¥5,000
ONLINE RESERVATION
– – – – – – – – – – – – – – – – – – – – – –
DINNER COURSE
SOUP
Roasted parsnip and apple purée soup

SIDE
Smoked scallops with wild rice, faro, beets, Brussels sprouts
and apple salad with maple dressing
MAIN
Poached turkey breast and herb marinated grilled turkey thigh with cornbread
stuffing, green beans, cranberry relish and mushroom gravy
DESSERT
Pumpkin butterscotch pudding with whipped cream and caramelized pumpkin seeds

¥6,000
– – – – – – – – – – – – – – – – – – – – – –
DINNER COURSE
SOUP
Smoky wild mushroom purée soup with smoked cream and croutons
SIDE
Chipotle spiced beef and cheddar mac-n-cheese
MAIN
BBQ turkey breast plate with cornbread, green beans, whipped yams and cranberry relish
DESSERT
Pumpkin pecan pie with vanilla ice cream and whipped cream
¥5,000
ONLINE RESERVATION
– – – – – – – – – – – – – – – – – – – – – –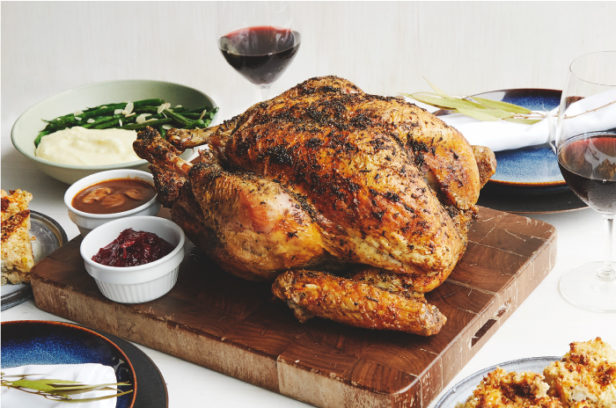 TURKEY PACKAGE
SOLD OUT!
※数量限定※
Whole roasted turkey【Approx.7kg for 8 people】
mushroom gravy sauce
cranberry relish
original cornbread stuffing
sautéed green beans
mashed potatoes
¥32,000
TURKEY PACKAGE OPTION:
Pumpkin Tart +¥3600
BOND ST. KITCHEN, breadworks, CICADA, crisscross, EL CAMION, IVY PLACE, kenka, Lily cakes, No4, RYAN, SMOKEHOUSE, T.Y.HARBOR, T.Y.HARBOR Brewery, THE ROASTERY, TYSONS