ACCESS & INFO
Business Hours
Lunch
Weekdays:11:30〜15:00 (14:00 L.O.)
Weekends/Holidays:11:00〜16:00 (15:00 L.O.)
Dinner
Weekdays:17:30〜23:00 (22:00 L.O.)
Weekends/Holidays:17:00〜23:00 (22:00 L.O.)
Craft Beer Bar
Weekdays:11:30~23:00 (22:00 L.O.)
Weekends/Holidays:11:00~23:00 (22:00 L.O.)
River Lounge
Weekdays:17:30~23:00 (22:00 L.O.)
Weekends/Holidays:17:00~23:00 (22:00 L.O.)
Brewery Shop
03-6632-1718
12:00〜21:00
03-5479-4555
2-1-3 Higashi-Shinagawa, Shinagawa-ku, Tokyo 140-0002
For any questions regarding public relations,
please call 080-2567-9155, or e-mail to pr@tysons.jp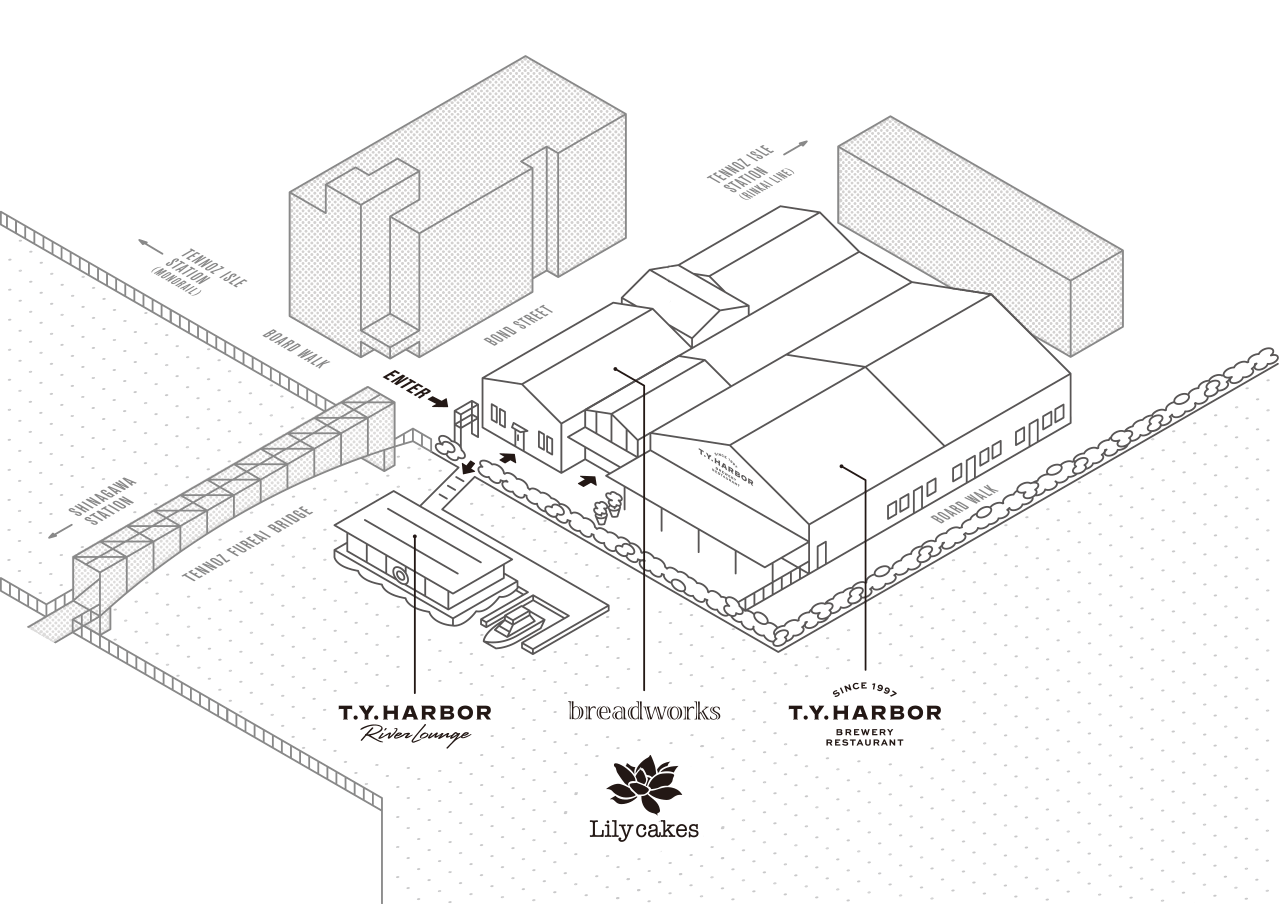 Tokyo Monorail Line - Tennoz Isle Station Central Exit - 5min Walk
Rinkai Line - Tennoz Isle Station B Exit - 5min Walk
JR Line - Shinagawa Station South Exit - 20min Walk
Valet Parking
10:00~22:00
1000 Yen/Per
Please get your ticket validated at the restaurant

Please drive up to the valet station near the gate and one of the staff members will gladly assist you.
Pets are welcome around the terrace area near the bar.
Highchairs and utensils are available upon request.
Baby changing tables are available in select restrooms.
Please check-in strollers with the restaurant on the weekdays until 1PM.
Handicap accessible establishment.
Handicap accessible restrooms are also available.
Please let a staff member know if you would like any assistance.
Non-smoking establishment.
※Separate smoking room available.
PRIVATE ROOM
1 Room Available
Approx. 20 Guests
MINIMUM CHARGE
Weekday Lunch Time: ¥50,000
Weekend Lunch Time: ¥100,000
Dinner Time: ¥150,000
---