JOB INTERVIEW
Wataru Kanno
CRISTA Kitchen Staff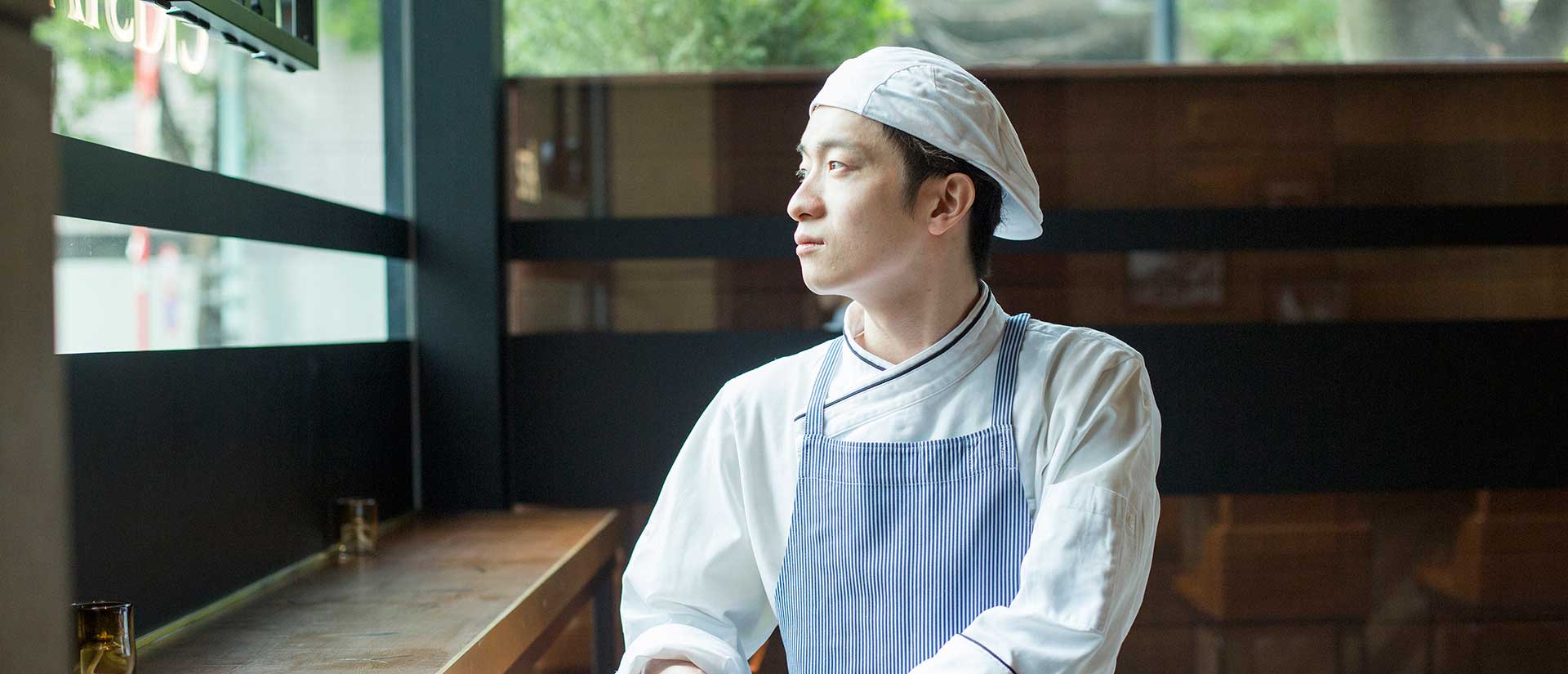 No matter how busy it is, hand over the food in good feeling. That feeling will be the secret ingredient to the guest experience.
I wanted to choose a safe workplace since I will be spending so much time there.
"Everyone was so nice to me during my training." This was what I thought during my one month off-campus training at T.Y.HARBOR. That is why I decided to work part-time there on the weekends, and then full-time after I graduated. You spend a lot of time at your job, so I wanted to choose a place I knew I could work safely. In spring 2013, I joined TYSONS & COMPANY (below TYSONS) as the first group of new graduates. As a full-time staff, I definitely felt a different kind of responsibility. There were plenty of part-time staff who had more experience, and I was the youngest at the time so I had a lot to learn. T.Y.HARBOR is always full of guests, so it's always busy. I can say this now, but there was a time when I couldn't finish preparation in time, and was so upset I cried on my way home. But to be criticized when I couldn't do my job is a given. I realized that my superiors are actually watching what I do. I felt much better after I cried, and after that, I thought about how I can work better.
On the other hand, if I was able to prepare something on time, they complimented me with a "Nice timing!" There are many restaurants within TYSONS, but there is no wall even between different restaurants. Everyone is friendly with each other, and they all are aware that they work in the same company.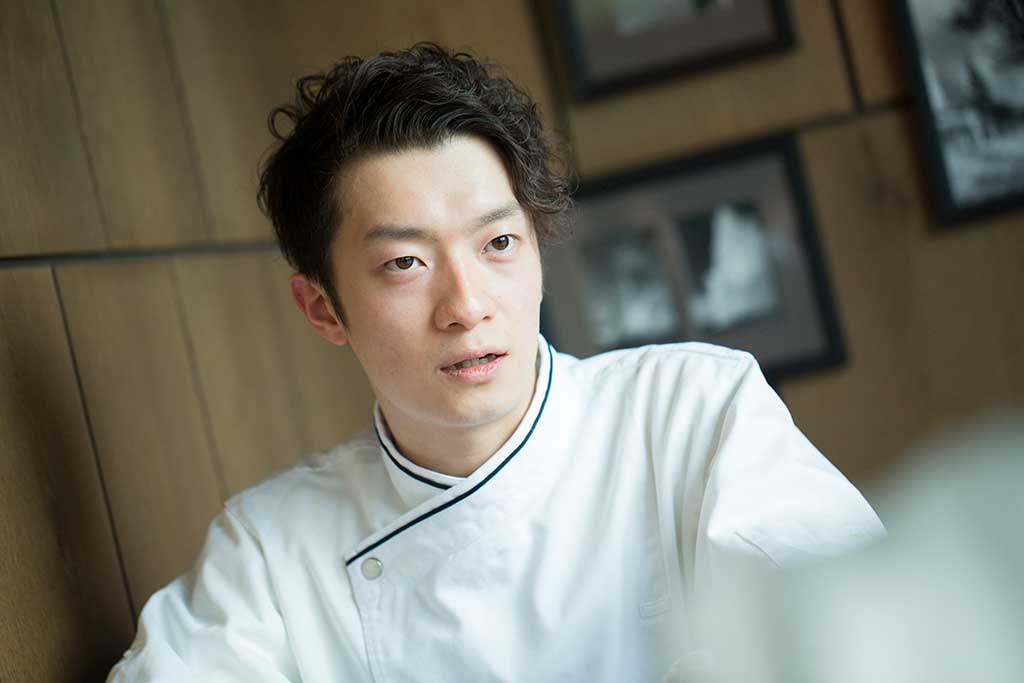 You can't grow without a hungry desire. You need to create your own chance to learn.
During my 2nd year, I wanted to learn more about food genres I didn't know about. I proposed a kitchen seminar course called "Chef's Kitchen." I had never seen other TYSONS chefs cook food face-to-face, and so I wanted to watch them cook, eat and learn from these chefs who have created the taste of TYSONS. I discussed the plan with our HRD manager Ando and we decided to go through with it! It was fast! I was overwhelmed with how fast they move their knives, and even learned about wine pairings. It was also a great experience to talk to the chefs from other restaurants.
I learned a lot during the 3 years I spent at T.Y.HARBOR, but one thing I regret is not being proactive enough. For example, I was so overwhelmed by the process of cooking meat in a large frypan, I was too scared to ask someone to teach me properly. I realized you need to be more aggressive to grow. When I transferred to CRISTA, I again realized the level of my skills, and am still in the process of being taught the basics from one.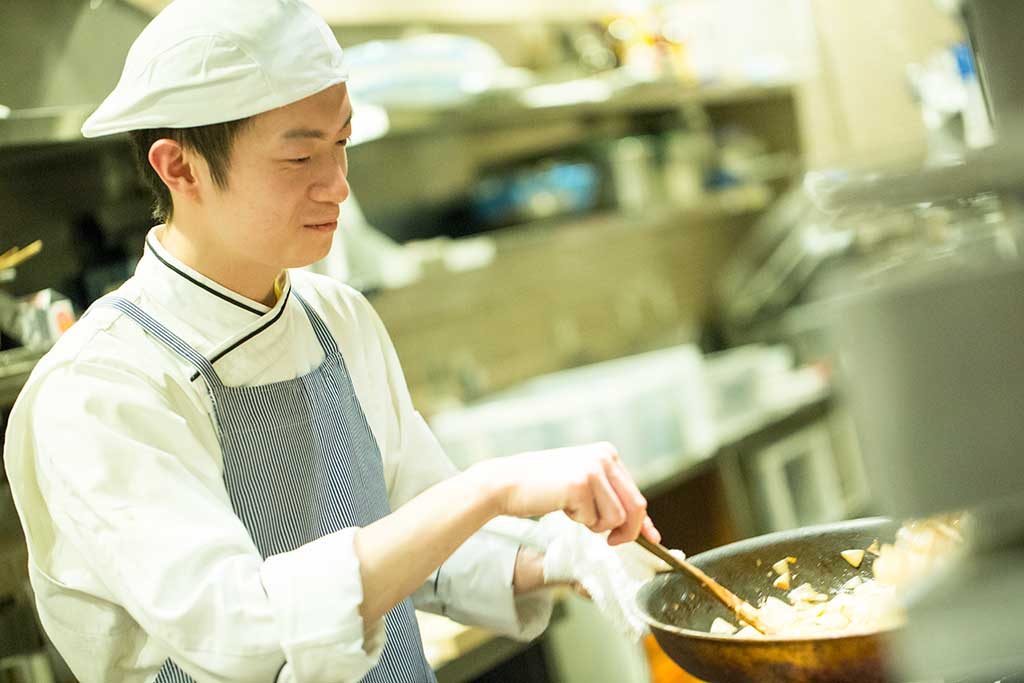 To provide a fun guest experience, pass each dish to the hall staff in good feeling.
Providing good food is a must, and in addition to that, providing a "fun" restaurant experience is what we at TYSONS aim for. I work in the kitchen so I don't serve guests directly, but no matter how busy it is I make sure to pass each dish to the hall in good feeling. For example, if I handed something to the waiter with a bad attitude, that attitude might transfer over to the guest as well.
When I joined the company I was surprised how the entire staff acted like one big family. With our president at the head, everyone seemed to be facing the same direction. If one person gets busy, everyone helps, and if one person is slowing down, everyone supports that person. There are even times when I go out with staff from other restaurants on my days off. When my parents were visiting Tokyo, I was able to take them to T.Y. with pride and I can tell my friends that I enjoy work. One of my friends from college who was working for a different restaurant company was troubled with his job, so I asked him if he wanted to join TYSONS. There are now 3 people working here who I have introduced.
Wataru Kanno
Worked part-time at T.Y.HARBOR while going to school. After graduating in 2013, he joined TYSONS as a new graduate, first working in T.Y.HARBOR for 3 years and then transferring to CRISTA. He made a proposal for a seminar course called "Chef's Kitchen," where staff can see and feel our head chefs cook at close range. He is one of TYSONS & COMPANY's first group of new graduate hires.
Employment Information
Salary:

Between ¥250,000 and ¥450,000 per month or more
*Experience taken into consideration
(an hourly salary of between ¥1,100 and ¥1,300 during one to five months of training)

Location:

Please choose preference from all TYSONS & COMPANY or Rising restaurants, cafes, bakeries and other services.

Paid Days Off:

9 days a month (Shift system)

Benefits:

Full coverage for transportation expenses, one raise per year, two bonuses per year (equivalent to twice the basic month salary), dining allowance, employee discounts, full coverage on social insurance, overseas training program in place (partial coverage of expenses)
*No employment visa sponsorship
Salary:

hourly salary starting form 1050 yen

Benefits:

Partial coverage for transportation expenses, uniform provided, meals provided, employee discount
*No employment visa sponsorship